Hoya Moros: Mountain paradise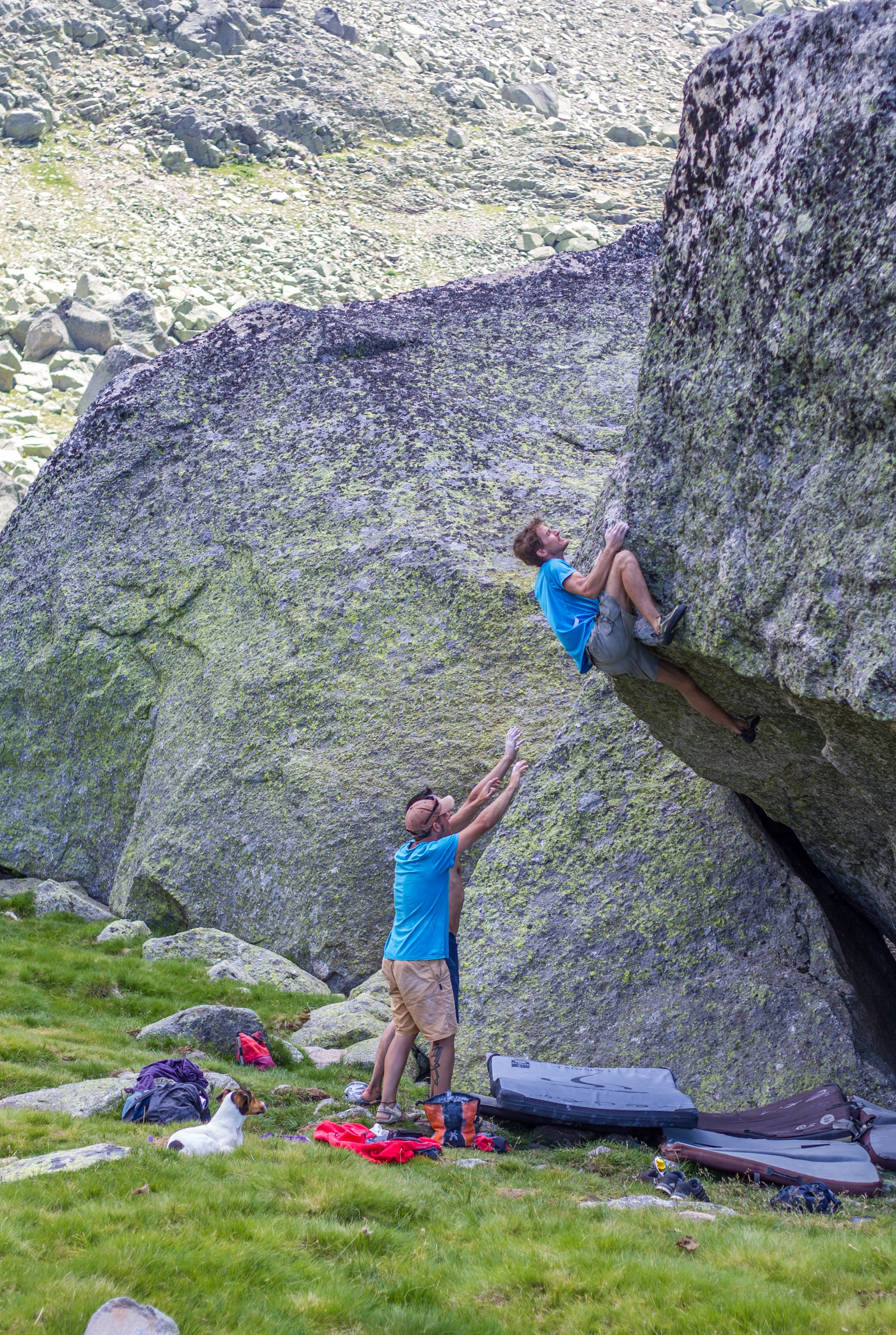 Since I moved from Barcelona to the center of Spain (close to Madrid) 15 years ago, I discovered all these top granite bouldering spots here and subsequently found I had just one problem: Where to go bouldering during the scorching summer. Luckily, this question disappeared quickly once I discovered Hoya Moros.
Hoya Moros is an ancient glacier cirque at 2050 meters above sea level, close to the beautiful village of Candelario, just 2h 30 minutes driving from Madrid to the west. When summer heat waves hit all the classical winter bouldering spots within Madrid and temperatures soar to 40º C, Hoya Moros season starts and we go up there almost every weekend.
We love this place because once we get to the village of Candelario, we leave the car at the trail head and the adventure starts. Hoya Moros is something like bouldering and alpinism mixed together. We have to walk uphill carrying all the necessary stuff like down jacket, sleeping bag, food, clothes, crashpad and climbing shoes. No water is needed because the Cuerpo de Hombre river starts at this former glacier. Summer is the only season where bouldering is possible, although during noon and early afternoon temperatures can be high. A set of severe regulations is present in this area: no fire, no tents, no messing with grazing cows, no trash. We have to be respectful with the environment and leave this place just how we love it.
So why do we love bouldering at Hoya Moros?
Because the approach is just 2 hours walking (depending on the weight we carry on our backs) to get to the circuit and not all boulderers love that.
Because there are some big bivvy spots and many other smaller ones, where we used to meet unknown people to share interesting discussions with, while sharing a bottle of wine or some beers—carried by everyone of course.
Because by Friday morning we are excited at work, texting our buddies to just synchronize our arrival time up there and what bivvy will be the meeting point. Everybody wants the best one and the most comfortable.
Because even if we climb as hard as we can, getting injured is not an option as the helicopter patrol would be required. Its very important to know the few points where cell phone signal is available.
Because we divide bouldering sessions in two half sessions: Early morning to afternoon and late afternoon to evening or night—interspersed with a classic Spanish siesta. It's not rare to indulge in night bouldering sessions with head lamps to avoid the highest temperatures during the hottest summer days.
Because we love mountains and we love to sleep at the Million Star Hotel with the starry sky as our roof.
Because we love the amazing sunsets that nature gives us. The presence of Los Hermanitos, the twin granite towers visible from everywhere around the cirque, reminds us that we are in alpine territory.
Yet the main reason because we love bouldering at Hoya Moros is that we have a deep feeling of freedom up there in this mini wild paradise surrounded by mountains and full of erratic boulders in the middle of green meadows.
Finally, it's impossible to talk about bouldering at Hoya Moros and not mention the priceless work of the local crew. Good friends like Manu and Cuco have been developing this area for many years and they still work to get this spot as the summer paradise that it is—for all people who love bouldering.
Bouldering, nature and freedom. What else is necessary?
Carles De Diego
Doctor, climber and photographer from Barcelona, currently at Toledo; Spain